Canon Hongkong (CHK) participated in the Red Packet Recycling Program of Greeners Action and the Gift Transfer Program organized by People's Food Bank of St. James' Settlement for the 6th consecutive year. CHK dedicating its unrelenting efforts as a green company encouraging colleagues to participate the captioned programs in a continuous momentum in order to develop the habit of reuse and recycle in their daily life.
Canon Engineering Hongkong (CEHK) and Canon Electronic Business Machines (CEBM) joint hand with CHK together to participate in Red Packet Reuse & Recycling Program. Through two-week collection period (From 5 to 22 February), total 14,372 red packets were collected. The result presents an active environmental attitude from our colleagues. All collected Red Packets were sorted by Canon branded (1,547 pieces) to be reused internally, and non-Canon branded to be passed to Greeners Action to arrange for public usage.
On the other hand, CHK also join the New Year Gift Transfer Program organized by People's Food Bank, by appealing its staff to donate their food boxes received during Lunar New Year but cannot consume before its expiry date to underprivileged families, to share the joy and blessing with them and reduce the unnecessary food waste. A total of 10kg+ well packed food were collected, included chocolate, biscuits and instant noodles. In order to ensure the food quality, all these food are in an intact package with a shelf-life longer than 8 weeks.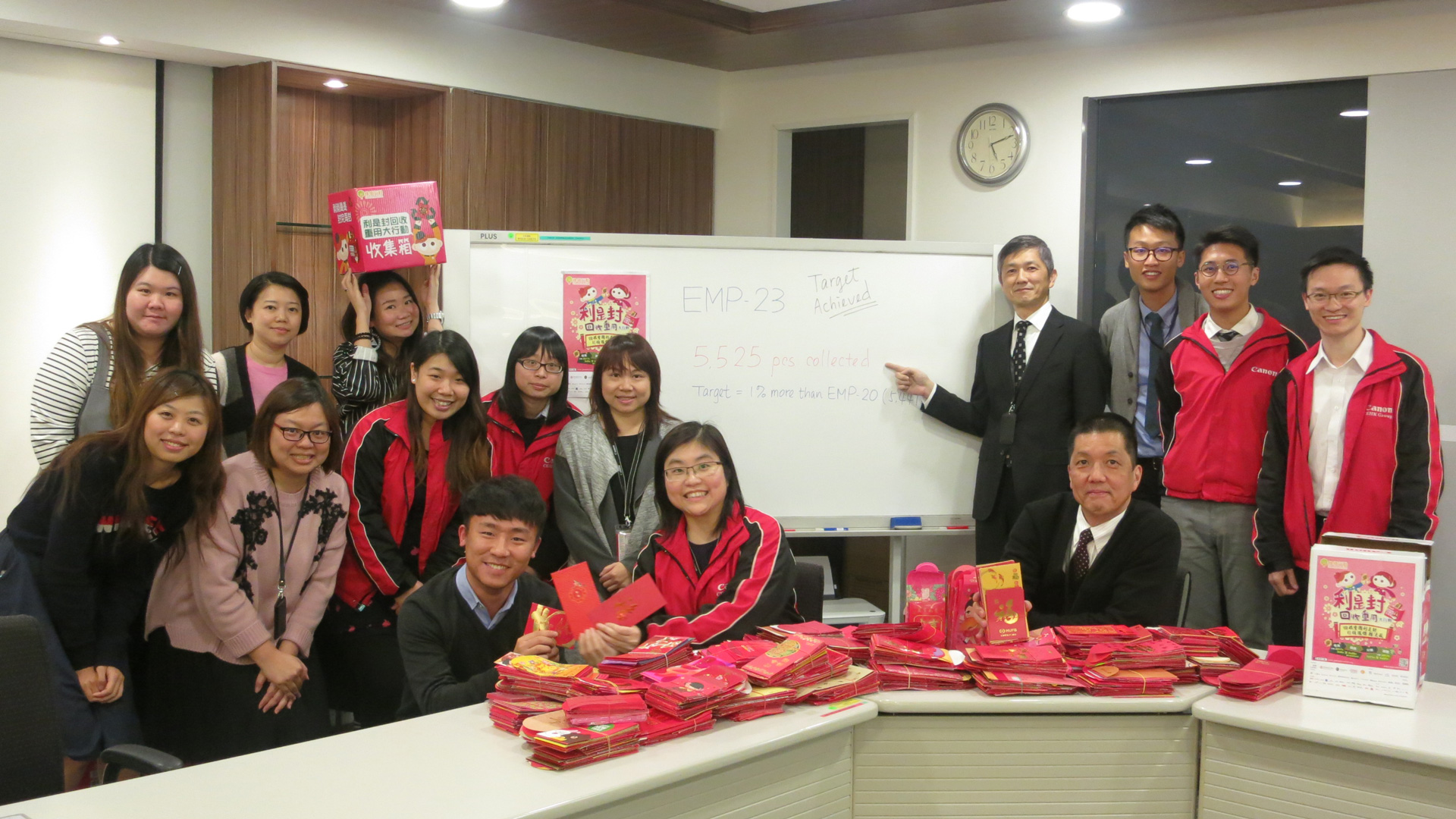 CEHK staffs supported the Red Packet Recycling Program and collected 5,525 pieces.


Collection boxes with eye-catching slogan are placed around CHK office, staff are keen to share their gift food boxes to the needy.