Canon Hongkong Company Limited (CHK) continues its support to 'Earth Hour' light off campaign for the 9th consecutive year on 25th March 2017 between 8:30pm and 9:30pm. CHK turned off all unnecessary lighting and electrical appliances during the campaign period, to show our determination to save the planet and make a difference for sustainable development.
In global, Canon also fully supports the concept of Earth Hour, and held a global "light off" event across Canon group companies at 283 sites in 36 countries and regions.
Earth Hour is a global event that was initiated in 2007 by the World Wide Fund for Nature in Sydney, Australia. The initiative caught the world's attention when the Sydney Harbour Bridge and the Sydney Opera House, two of the world's iconic structures, had their lights turned off for one hour. In 2017, an unprecedented 187 countries and territories took part, over 3,100 landmarks switched off their lights and millions of individuals, businesses and organizations across seven continents stepped forward to change climate change.




All CHK staff joined hands to support the global light off campaign 'Earth Hour', to strive for sustainable development.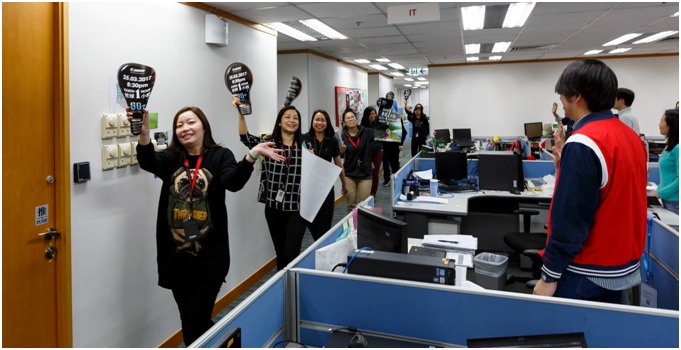 On 24th March, Corporate Communications team dressed in black to promote 'Earth Hour' light-off campaign, and reminded colleagues to consume wisely and reduce wastage.


Poster and decoration everywhere in office, reminded colleagues to support 'Earth Hour'.