Hong Kong Red Cross Blood Transfusion Service (BTS) has urged an appeal to the general public for donating blood as the blood inventories of all blood groups are in shortage in past two months.
In response to the appeal, Canon Hongkong Company Limited (CHK) lined up with ARA Asset Management (Prosperity) Limited and Goodwell Property Management Limited, to organize Blood Donation for the whole Metropolis Tower on 7th July, to encourage all tenants in this building to donate blood.
On the event day, a total of 93 people successfully passed the health scanning and haemoglobin test for blood donation, in which, 40 of them are CHK staff.
CHK has been organizing "Canon Blood Donation Day" twice a year, to encourage more staff's participation and to build up regular blood donation habits, to save more lives.
Why Donate Blood?
There is no substitute for blood. In order to provide fresh blood products for treatments of patients with chronic diseases or in need of surgery because of illness or accident, BTS entirely count on the generosity of the blood donors to donate on a continuous basis.
The collected blood will be processed into its components, followed by stringent tests for infectious diseases and bacteria before being used in various treatments. Every single donation can help 3 or more patients, so please do not underestimate your contribution.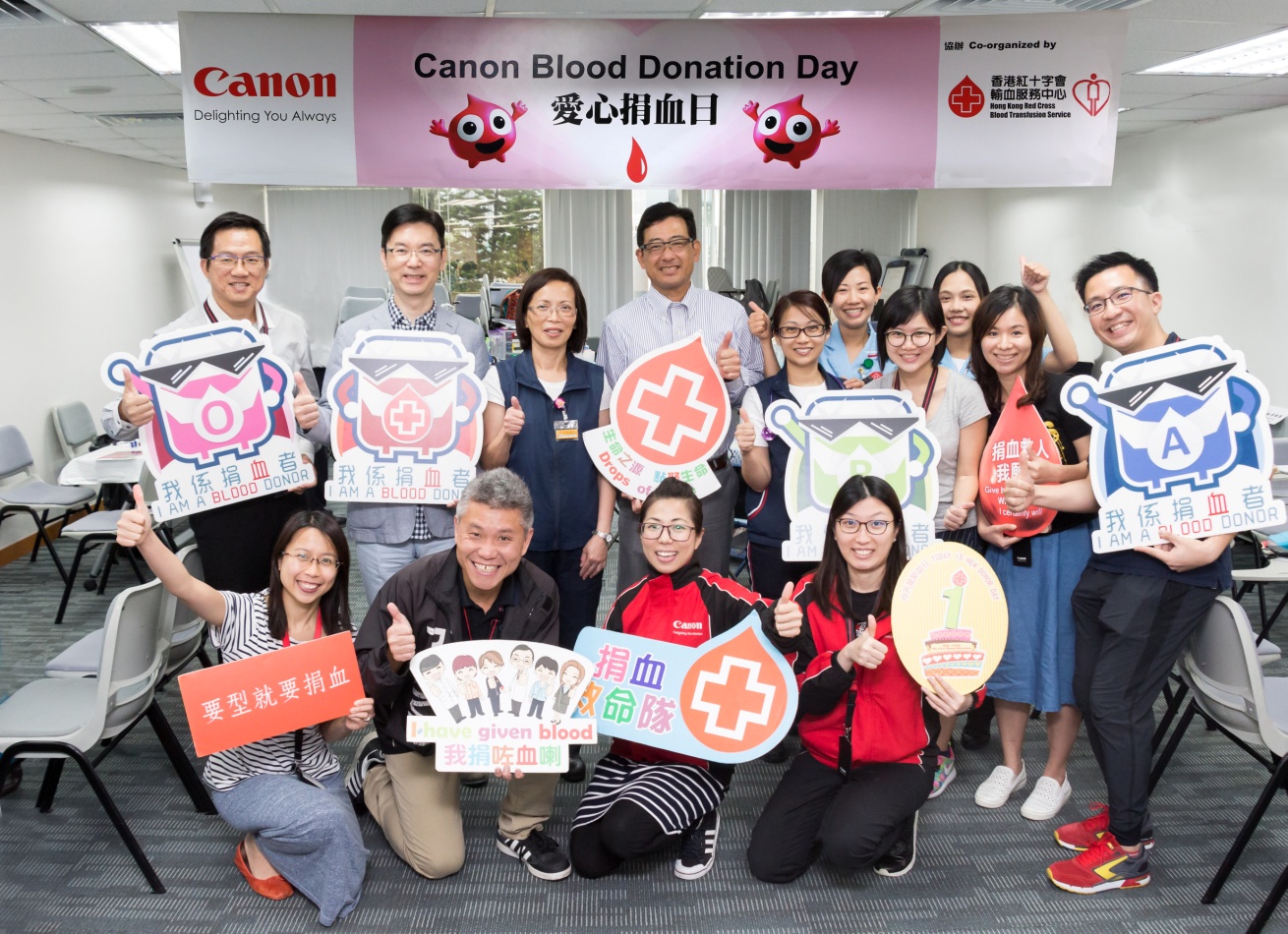 Mr. Shunichi Morinaga (middle in 2nd row), President & CEO of CHK, together with Hong Kong Red Cross BTS team and CHK staff, encourage more people to take initiative to give blood and save life.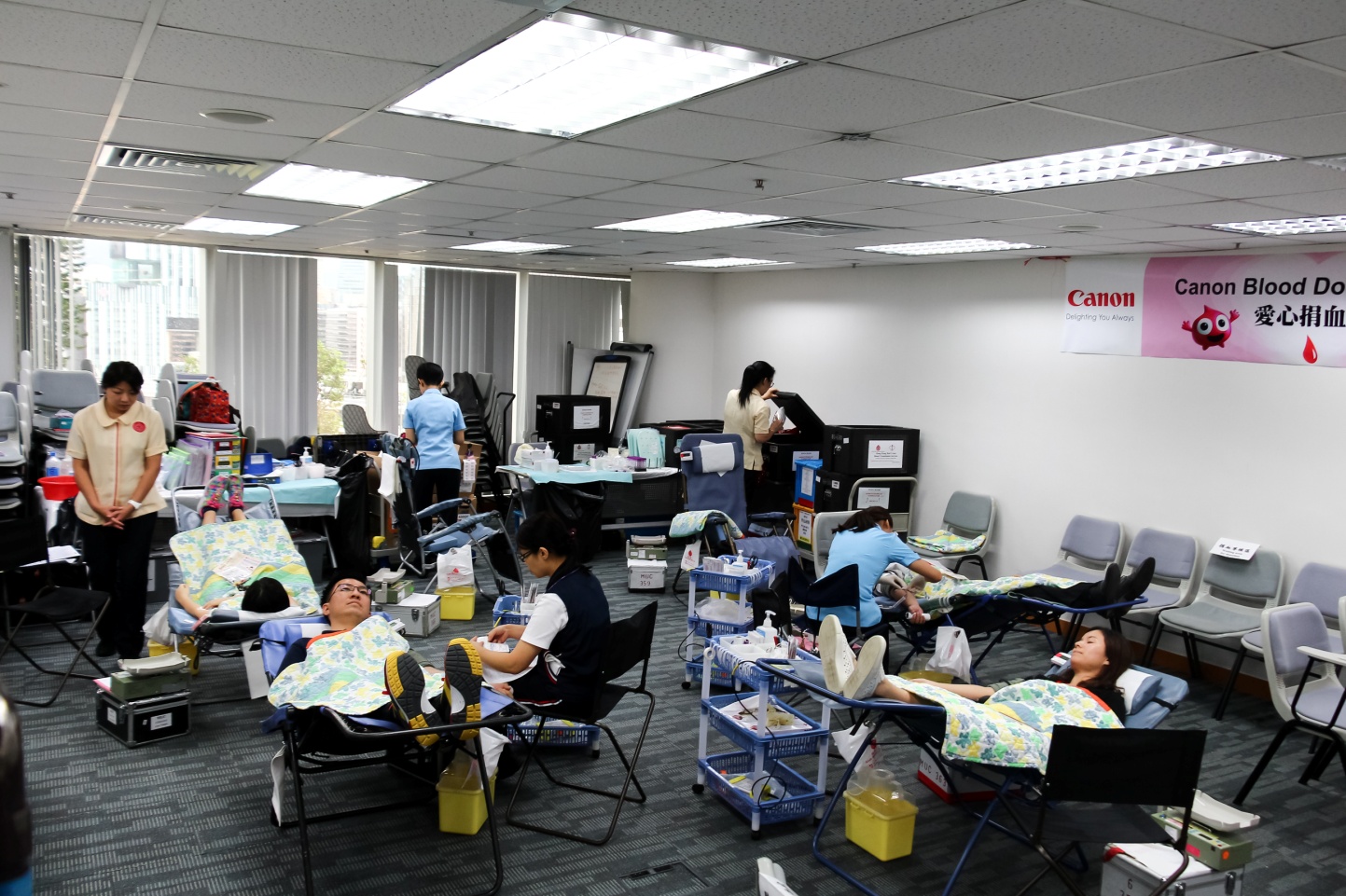 56 CHK staff took the initiative to join the Blood Donation Day and 40 of them successfully passed the health scanning and haemoglobin test for blood donation.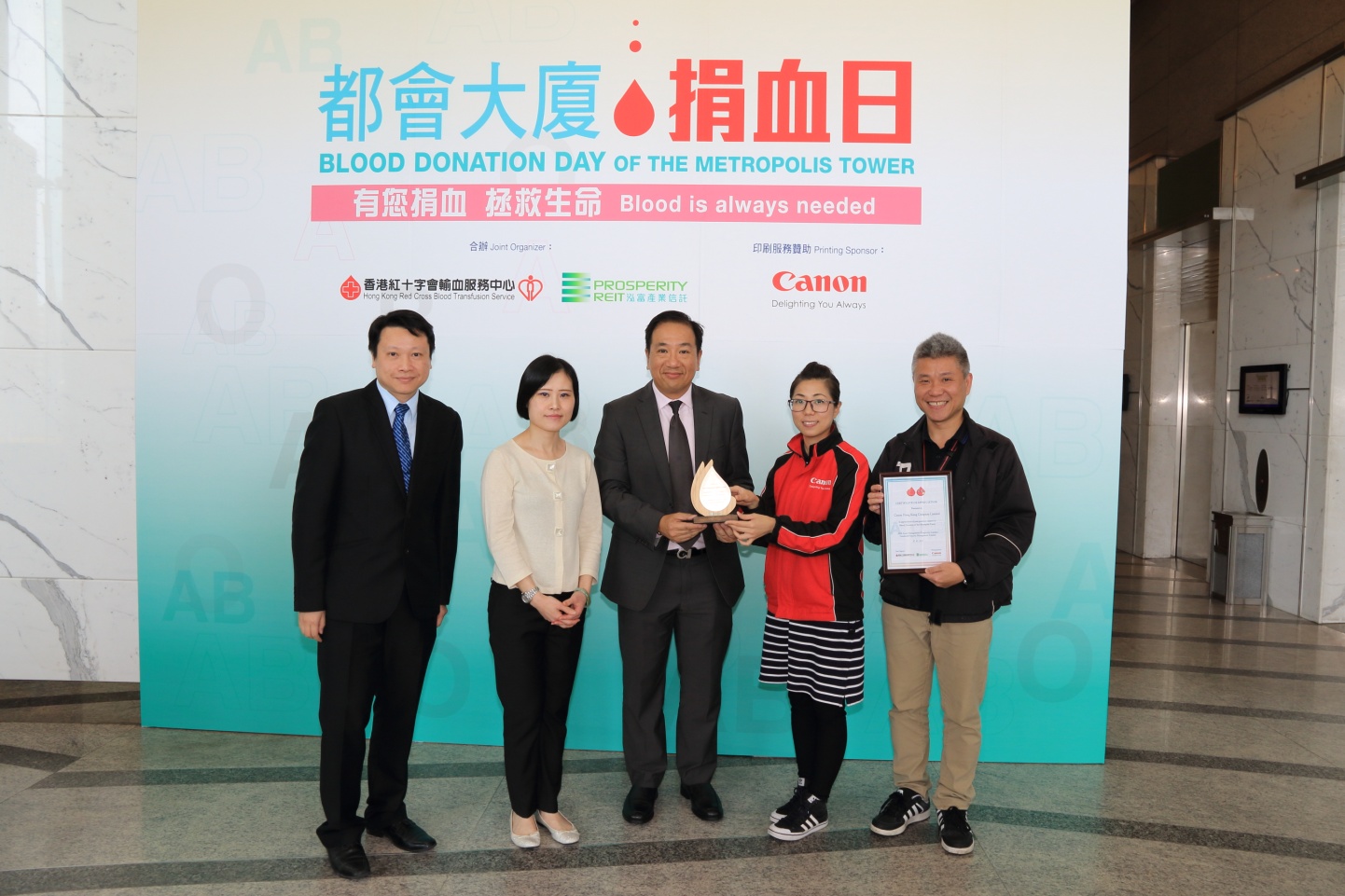 Canon Representatives – Mr. C.Y. Cheung (1st from right) and Ms. Mandy Lam (2nd from right), received trophy and appreciation certificate from Ms. Mavis Wong, Executive Director and Chief Executive Officer of Prosperity REIT (2nd from left), Mr. Gary Tse, Senior Manager, Building Management of Cheung Kong Property Holdings Limited (Middle), Mr. Boris Chan, Leasing Manager of Cheung Kong Property Holdings Limited (1st from left).