Canon Hongkong (CHK) continued its support to "Step Out Blue House" Charitable City Orienteering Competition for Heritage Conservation 2017 for consecutive 3 years, a fundraising event for the sake of "Viva Blue House Conservation & Revitalization of Blue House Cluster Scheme" organized by St James' Settlement. And the event is in the form of city orienteering which allow participants to taste local cultural in Wan Chai District of Hong Kong.
On 26 November, the competition was successfully completed with 455 people joined and raised a total of HK$217,450. Participants can either join "Individual Run" or form-in a team of 2-4 people in "Group Run". In order to encourage Parent-Child relationship, "Family Run" is firstly set this year for parents & kids to explore the city together. Within 2.5 hours, all participants are required to travel 10 out of 20 checkpoints around Wan Chai according to their own planned route. In each checkpoint, special challenge is given for participants to gain maximum of 10 scores. Individual or team whom get the highest accumulative scores from 10 checkpoints will be awarded. Through orienteering the checkpoints & accomplish the challenges, participants could understand the local wisdom & cultural folks in between modern skyscrapers in Wan Chai District.
CHK, as the Silver Sponsor, providing instant photo shoot & print service for all participants upon their return to the finish point. A total of 288 photos were printed with participants' smiling faces. In addition, a team of 20 CHK staffs volunteered to join the event by pairing up with 20 pupils from SJS's "Grant-in-aid Brightens Children's Lives Service", so that they can also be able to experience this meaningful game together.
About St. James' Settlement
Established in 1949, St. James' Settlement is a multi-social service charity organization providing comprehensive services for over 3.8 million needy people every year in HK. There are altogether 59 service points in various districts of Hong Kong with a broad spectrum ranging from community support to residential care.
About Viva Blue House: Conservation & Revitalization of the Blue House Cluster Scheme
In 2009, Development Bureau launched the "Revitalizing Historic Buildings Through Partnership Scheme" and Blue House Cluster (Blue House, Yellow House & Orange House) was one of the project in batch II. In 2010, together with other community cultural concern groups, SJS was selected as the operator of the project and project was named "Viva Blue House: Conservation & Revitalization of the Blue House Cluster Scheme". It is the first project that embraces the mission on "retention of both residents and the building", targeting for sustainable community development.
Starting from 2014, CHK committed a 3 year partnership with SJS to fully donate the enrollment fee of Canon PhotoMarathon 2014 – 2016 (approx. HK$1,700,000) to the revitalization project of Viva Blue House without any deduction.
After years of refurbishment, the official opening ceremony of the Blue House Cluster has been held on 18 September. It is now turned into a multifunctional complex, which includes 20 residential flats, a community service centre, 2 restaurants run by social enterprises, and a space dedicated to record and exhibit Hong Kong Stories.
In November 2017, the project wins the Award of Excellence of the UNESCO Asia Pacific Awards for Cultural Heritage Conservation. It is the 1st time Hong Kong received the highest level of achievement in heritage conservation that display exceptional achievement in all criteria and have major catalytic impact at regional level.
Reference: Blue House Cluster wins Award of Excellence of UNESCO Asia-Pacific Awards for Cultural Heritage Conservation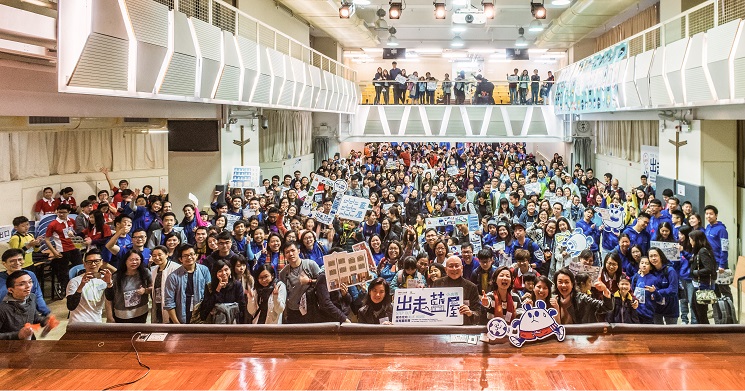 Over 400 participants are full of power and ready to start the competition!
CHK Volunteer Team bring along with 20 students together to enjoy the city orienteering day.
Canon Instant Photo Shoot & Print Service was offered to all participants giving a perfect end for the entire competition.
On 18 September, Mr. Shunichi Morinaga (left), President & CEO of CHK, was invited to attend the opening ceremony of "Viva Blue House Revitalization of the Blue House Cluster" and received the appreciation plaque from the Guest of Honor, the Chief Executive of HKSAR, Mrs. Carrie Lam (right).