Canon Hongkong, with its corporate philosophy of "KyoSei", strives its best to achieve sustainability by adopting practices to control the impacts to society and environment causes by its operation and products.
For its operation, Canon Hongkong set up internal guidelines for green procurement in order to make sure that sustainability considerations are taken into account during the procurement process; while for its products, the company managed to reduce the products' environmental impact throughout the entire product life cycle (i.e.: from design to recycling), and incorporated sustainable features into the products, such as energy efficiency, restriction on use of hazardous chemicals, recyclability and etc.
Due to the abovementioned efforts, Canon Hongkong is recognised as "Sustainable Consumption Enterprise" and "Sustainable Product Supplier" under the "Fostering Sustainable Consumption for Hong Kong Business and the Community" programme.
The programme is organised by the Business Environment Council Ltd. (BEC) and funded by the Sustainable Development Fund, which aims to promote sustainable consumption and drive behavioral changes in Hong Kong.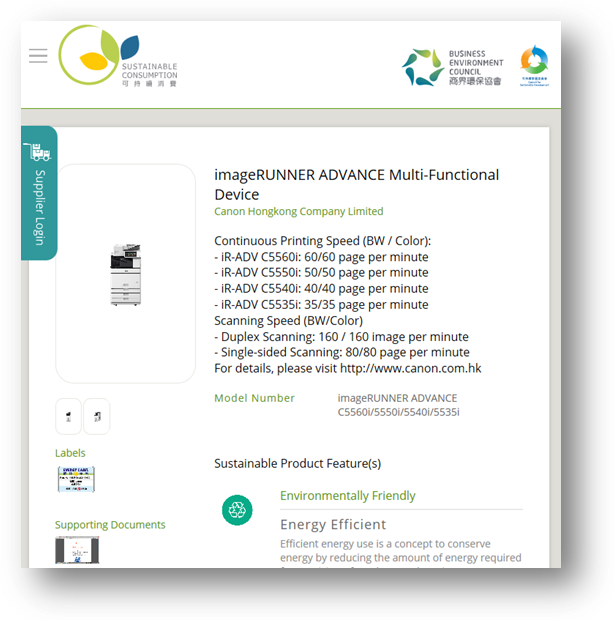 Canon iR-ADV C55xxi series is registered on Online Directory of Sustainable Products and Services under the BEC programme (http://suscon.bec.org.hk)
Canon Hongkong is recognised as "Sustainable Product Supplier" and "Sustainable Consumption Enterprise"