Action for Green is always one of the key focus of the Canon Hongkong's Corporate Social Responsibility. The company's corporate volunteer team together with the Green Earth, joined hands to carry out the "Canon Volunteer Day 2017: Shorelines Clean up at Tung Lung Island" to protect Hong Kong and our environment by true action.
On December 10, a team of 87 CHK volunteers with their families and friends participated in this seven-hour service day. Volunteers were split into two teams, "Challenge Team" and "Experience team" to collect rubbishes from two key rock beaches at the Tung Lung Island. A total of 70 bags litters were picked which included plastics, food packaging, plastic bottles, discarded wood, and even broken shoes.
Through the cleanup day, the team accomplished their tasks with indifferent beach cleaning experiences, helping to restore the beauty of Tung Lung Island beaches as well as learning messages behind the scene taught by the Green Earth professional representatives. With the story of "Uncle Wong", who is only camp-site trash cleanup provider on the island, the team get to know how huge amount of rubbishes are left behind from those created after camping, and experienced how to deliver these bulky and smelly items by just using a trolley and manually pull from beach area to pier. All these showed the importance to build up the habit of "Take away your own garbage", it is hoped that more people can aware to issues not only on littering but also wasting of recycling materials.
CHK Corporate Volunteer Tram was officially established in 2015, cohering to the Canon's corporate philosophy "Kyosei" and dedicating its unrelenting efforts in Corporate Social Responsibility to contribute better community. Aside from charity donations and sponsorships, CHK is even more eager to empower the society by getting in real touch with the needy. Encouraging CHK employees to put love and care into actions to reciprocating the society. Meanwhile, the team share care and happiness to the public by making better use of the brand's imaging expertise.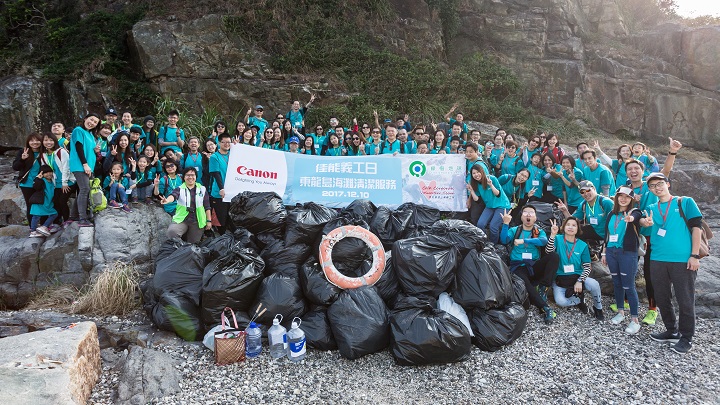 87 CHK volunteers participated the cleanup service and collected over 70 bags of litters, all shout for "TAKEAWAY YOUR OWN GARBAGE"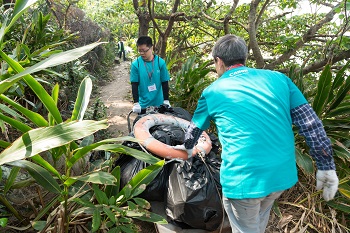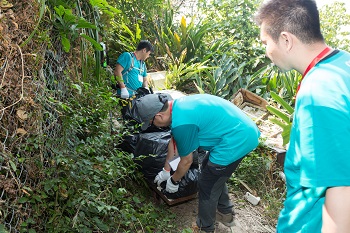 Volunteers are working hard to delivery all collected rubbishes to the Pier

Rubbish left over next to Camping site

The team enjoyed a Sunny day out, and most importantly, they were happy to having a chance to contribute to environmental conservation activity.