With the growing popularity of EOS movie in professional market, Canon has added two compression formats– Interframe (IPB) and Intraframe (ALL-I) in the new generation mid and high-end EOS DSLR featuring DIGIC 5+ Digital Image Processor.

IPB and ALL-I are essentially different methods of compressing movie files. There are varied benefits to using either IPB or ALL-I compression configurations. Videographers can choose the compression format base on shooting subjects and post production need.


Video Compression Basics
Movies may record 24, 25 or 30 frames per second, if we simply take every single frame as a single entity and compress them individually like in the case of photo – the resulting video file sizes would be huge and make video shooting impractical.

EOS Digital SLR cameras employ MPEG-4 H.264 compression format in EOS movie shooting. MPEG 4 interframe compression in general divides 1 second of video frames into 2 GOPs (Group of Pictures),one frame for every half-second of video recording is maintained, and in the subsequent frames, only visible changes are retained. The compression system therefore looks at one frame, and "predicts" what data the next approximately 15 frames would have.

The individual video frame that are fully retained are called intraframe (I-frame), also called key frames; the subsequent (roughly 12 to 15 frames) may consist of Predicted frames (P-frame) which only records the changes in the image from the previous frame and Bi-directional predicted frame (B-frame) which predicts subsequent frames in reference to both preceding and subsequent frame information. I-frames are used as reference frames to assist the prediction of P-frame and B-frame in the compression process. Take interview shooting as an example, I-frames will record the whole video frame while P-frames and B-frames will ignore the stationary background and record the motion of interviewee only.

Interframe Codec - IPB


Interframe compression is found in MPEG-4 compression mentioned above. EOS Movie in previous generation adopts an IPP compression which includes I-frames and P-frames only. In mid/high end EOS Digital SLR cameras incorporating DIGIC 5+, Canon has adopted a IPB compression which includes B-frames. Since B-frame can predicts subsequent frames in reference to both preceding and subsequent I-frames and P-frames information, IPB compression can detect the differences in data with higher accuracy than IPP compression. Therefore it can perform higher compression while retaining the same picture quality as IPP compression. Since the decompression of IPB compressed videos involves complicated calculation, which require more computer processing power.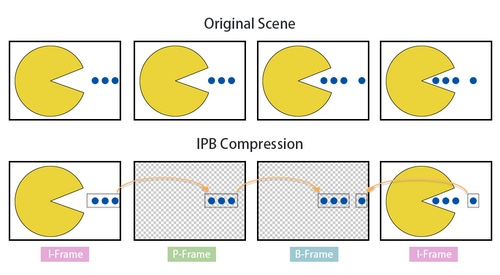 Intraframe Codec – ALL-I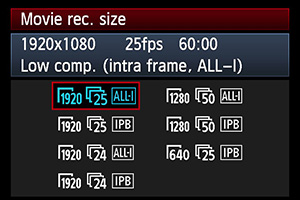 ALL-I compression has been used for large professional camcorders because of its high picture quality. It is designed for users working in high-end editing systems or those looking for the highest quality possible. In ALL-I compression, all of the frames that are captured are treated as key frames. In other words, each frame is compressed, but treated as a separate, single image. As considerable processing power is required, it is only made available to EOS Digital SLR cameras with the introduction of powerful DIGIC 5+ digital image processor. ALL-I compressed files to be about 3 times the file size of the same scene shot in the IPB compression. Nevertheless, with its low compression rate and the ability to edit by frame in post processing, ALL-I footages requires less computer processing power than IPB compression.


In conclusion, if you need the smaller file sizes for the continuous recordings like interviews, concerts, events function or wedding etc, IPB compression is more suitable.

In case you are shooting the jobs like TV commercials, music videos, short films or subjects with erratic movement (such as smoky scene or waves) etc which the quality is the top concern and the file size is not a big issue. Choose ALL-I compression for the highest quality. And also, the advantages of ALL-I also include the fewer computers processing power which results in smoother playback and faster editing.
1. File size of EOS Moving Shooting
| | | | | |
| --- | --- | --- | --- | --- |
| Movie record size | Frame Rate | Compression method | File Size (Approx.) | Recording time with 16GB memory card |
| 1920x1080 | 30/25/24 | IPB | 235MB/min | 1 hr. 4 min. |
| 1920x1080 | 30/25/24 | All-I | 685MB/min | 22 min. |
| 1280x720 | 60/50 | IPB | 205MB/min | 1hr. 14min. |
| 1280x720 | 60/50 | All-I | 610MB/min | 25 min. |
| 640x480 | 30/25 | IPB | 78MB/min | 3 hr. 14min. |
Movie record size

Frame Rate

Compression method

CF
Memory Card

SD
memory card

1920x1080

30/25/24

IPB

7MB/sec

5MB/sec

1920x1080

30/25/24

All-I

21MB/sec

15MB/sec

1280x720

60/50

IPB

10MB/sec

5MB/sec

1280x720

60/50

All-I

30MB/sec

14MB/sec

640x480

30/25

IPB

1MB/sec

1MB/sec