Product Notice
To Users of Drop-in Circular Polarizing Filters PL-C52(WII) and Drop-in Circular Polarizing Filters PL-C52
2016-FEB-24
Posted on: 24 February 2016
To Users of Drop-in Circular Polarizing Filters PL-C52(WII) and Drop-in Circular Polarizing Filters PL-C52
Thank you for using Canon products.
We have become aware that some of the above products sold from April 2014 onwards have been assembled with the polarizing filter glass reversely fitted. The details of the phenomenon and Canon's service policy are described below.
We would like to offer our sincere apologies to users who have been inconvenienced by this issue. Going forward, we will spare no effort in our quality management to make sure our customers can use our products with confidence.
Phenomenon
If an affected filter is used in the orientation as described in the instruction manual, it will not function correctly as a circular polarizing filter.
Affected Products
Some units of Drop-in Circular Polarizing Filters PL-C52(WII),
and some units of Drop-in Circular Polarizing Filters PL-C52.
How to determine if a filter is affected:

1. If the filter has one of the marks shown in the image below, it is NOT affected.


2. If the filter does not have one of the marks described in 1. above, the method below can be used to check whether or not it is affected.

i. With the [▲FRONT] marking on the filter facing forwards (towards the computer monitor's screen).
ii.  Turn the dial to rotate the filter.
The filter surface of non-affected filters will turn dark (black) as shown in image b) below. Affected units will change color as shown in image a) below, but they will not turn dark (black) in the same way as non-affected units.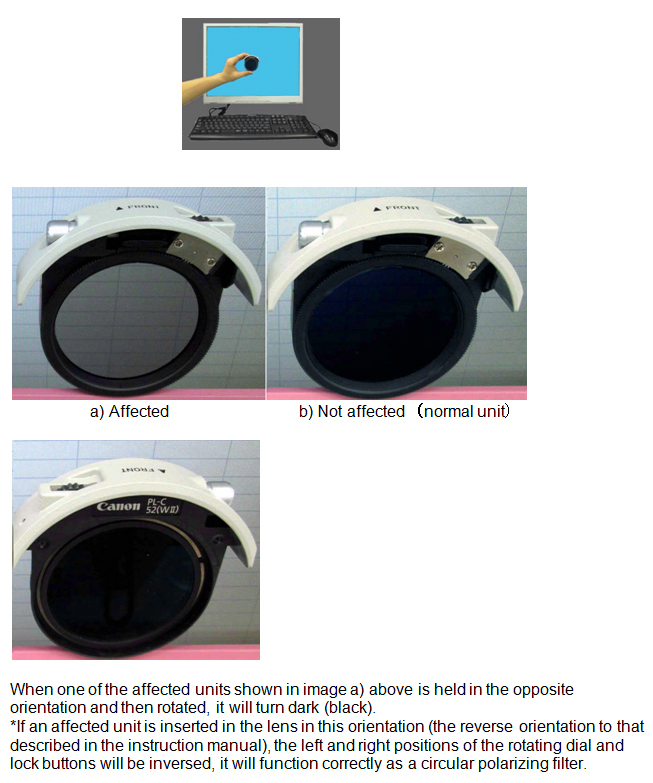 Market Support
Free-of-charge repairs will be provided for customers who own an affected filter, so customers are asked to bring their filters to their nearest Canon service center.

Contact Information for Inquiries
For questions about this matter, please contact our Customer Service Hotline.