The Magical Crystal Balls from a Macro Lens
Dew Drops Photography
What are the possible topics for macro photography? In addition to models, insects and flowers, we can challenge ourselves with dew drops. The following skills and tips can apply not only to morning dew in spring, but also raindrops and water drops.
Basic Camera Setting
Use of Macro Lens with High Magnification
Dew drops rest on leaves, flowers and insects normally. As the size is small, we need a lens to magnify them for close-up shots. Although most digital compact cameras are equipped with an in-camera 1cm Macro shooting function, it is difficult to outstand the subject as shooting at wide-end will include too many irrelevant surrounding objects in the composition.

That's why a macro lens with long focal length and high magnification can help in dew drops photography. For example, the EF 100mm f/2.8L Macro IS USM featuring a Hybrid IS makes shooting of tiny dew drops easier with an improved macro shooting stability.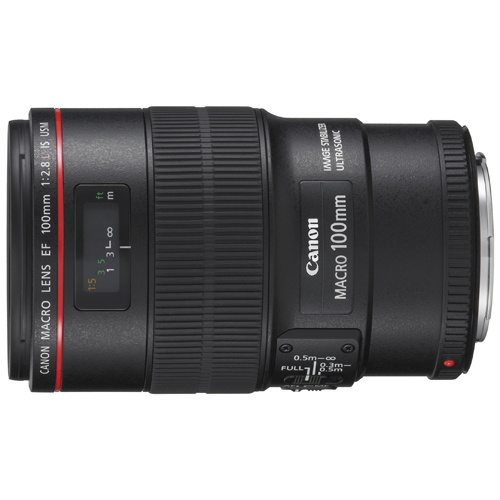 Use a Smaller Aperture
In macro photography, the extremely close distance between the subject and lens will lead to a shallow depth of field. If we take macro shots outdoor with a large aperture, even a mild breeze can create significant movement of the leaf and dew drops, resulting in the subject falling out of focus easily because of the extremely shallow depth of field. Therefore, we suggest to use a smaller aperture such as f/8 or f/11. Review the photos and increase the aperture gradually if needed to ensure that the subject is in sharp focus. A higher ISO is also recommended to allow for a faster shutter speed to freeze the dew drops in utmost clarity and sharpness.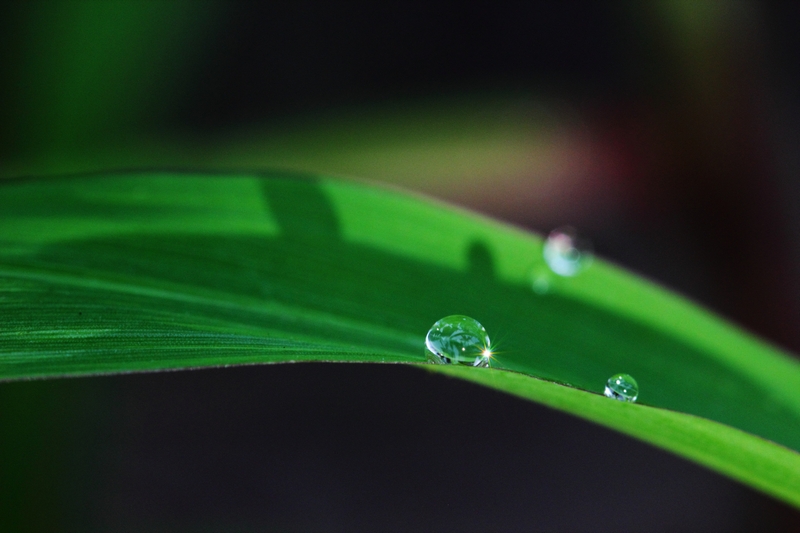 Use of Macro Ring Flash for Fill Lighting
Since we photograph dew drops in the early morning and a large aperture is not suggested for macro shooting, the resulting photo will likely be under-exposed due to inadequate lighting. When shooting, we should pay attention to the direction of lighting, and use a piece of white paper or reflector for fill lighting. If the built-in flash or an external flash is used to provide supplementary light, the shadow of the camera body or lens may fall on the dew drops. A better option is to use a macro ring flash to ensure that the subject is evenly illuminated.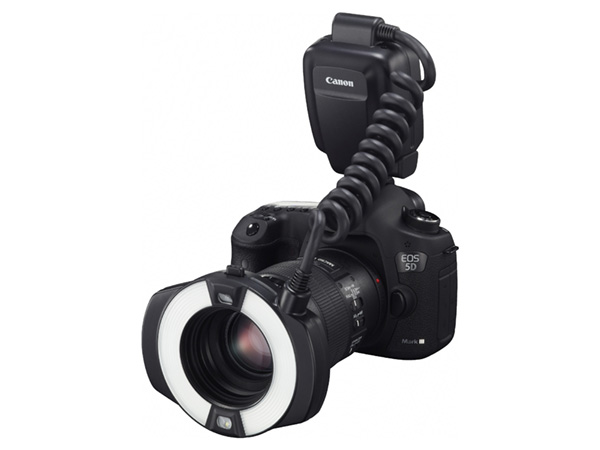 Composition Skills
Shoot from a Horizontal Level
To take pictures of dew drops, we need to observe carefully. Before you shoot, have a good observation of their shapes and think about what angle to shoot and the composition. We can shoot from a horizontal level to capture crystal-clear dew and depict its roundness. The dew drops clinging to the tip of a leaf are larger in size and look more glittering and translucent. Besides, by shooting from a horizontal level, the dew drops will be better illuminated without the surfaces of leaves and flowers blocking out the light. Also a blurry background can be achieved, resulting in more stunning photos especially when shooting dew drops on an insect.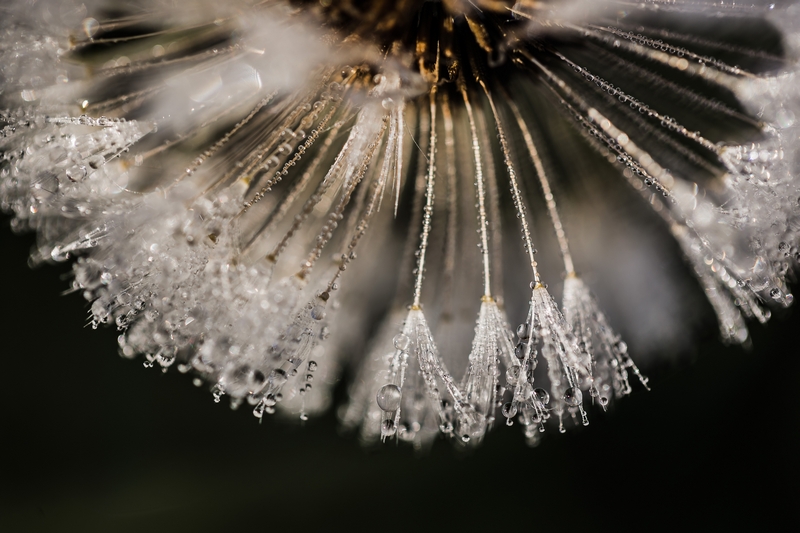 Images within the Dew Drops
Another common composition for dew drops photography is by using the dew drops as crystal balls to show the reflected image of the surrounding environment. This can enrich the composition and the result is interesting. A more enhanced approach is to show a variety of reflected images with multiple dew drops. Adjust your shooting position slightly to see what different effects can be achieved.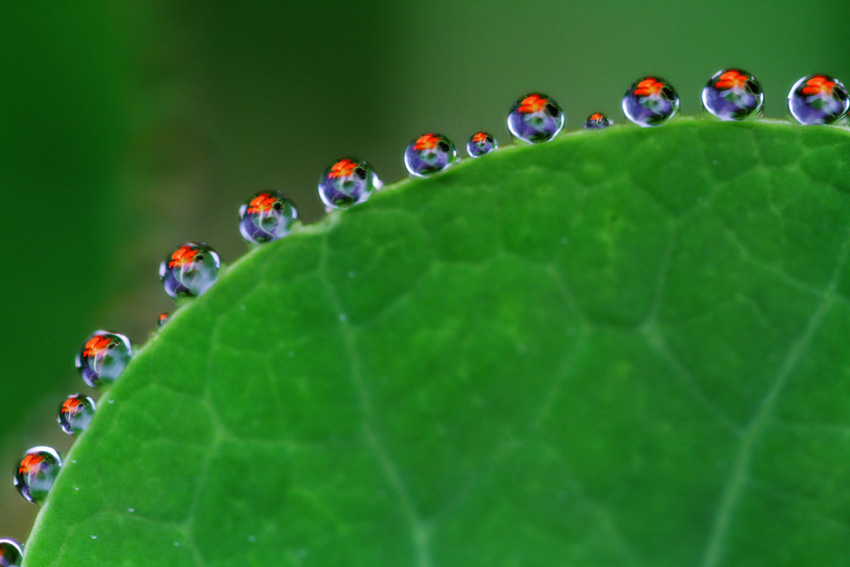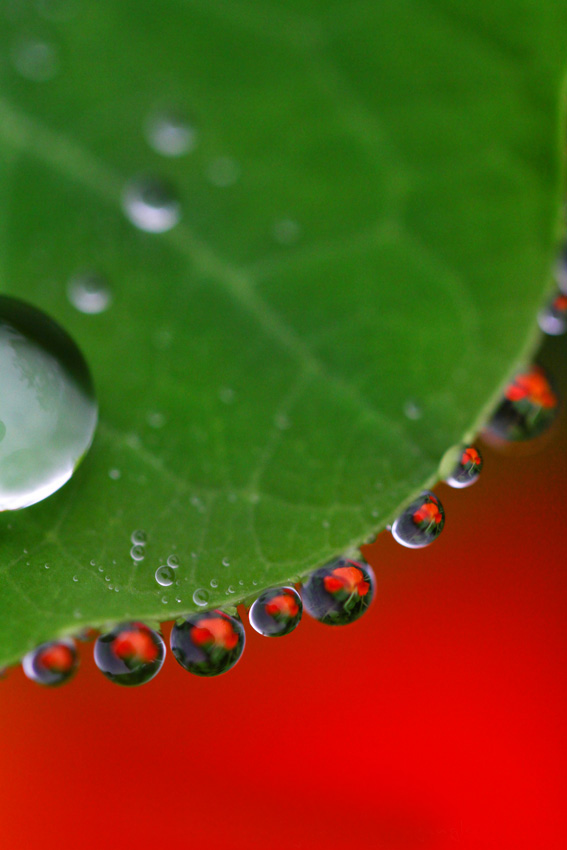 Remote Shooting for Improved Stability
Even slight camera shake can vastly affect the sharpness of a macro image. And the delicate dew drops may be destroyed with a slight movement of the leaf. If possible, we suggest to mount the camera on a tripod and shoot with the self-timer or shutter release cable. Some DSLR cameras such as EOS 6D, 70D, 760D, 750D and mirrorless cameras such as EOS M2, M3 have incorporated a Wi-Fi function, which can support remote live view shooting from smart phone using "Canon Camera Connect" app for added convenience and shooting fun.


Click here
to download iOS App "Canon Camera Connect"
Click here
to download Android App "Canon Camera Connect"