Stunning Sunsets at Ha Pak Nai
The golden light during sunset hours has always been one of the favorite photographic topics. However, it's not easy to take photos of sunsets in Hong Kong as high-rise buildings are everywhere. This time we'll take you to a famous sunset photography location on North West New Territories.
Using both Wide-Angle and Telephoto Focal Length
How should we capture photos of sunsets? There are two common ways in terms of composition. One is to zoom in to the sun using a telephoto lens with 200mm focal length or above, having the sun as the main subject to take a prominent position in the photo. Another one is to consider the setting sun as a complementary element to the bigger scenery and capture using wide-angle to normal lenses.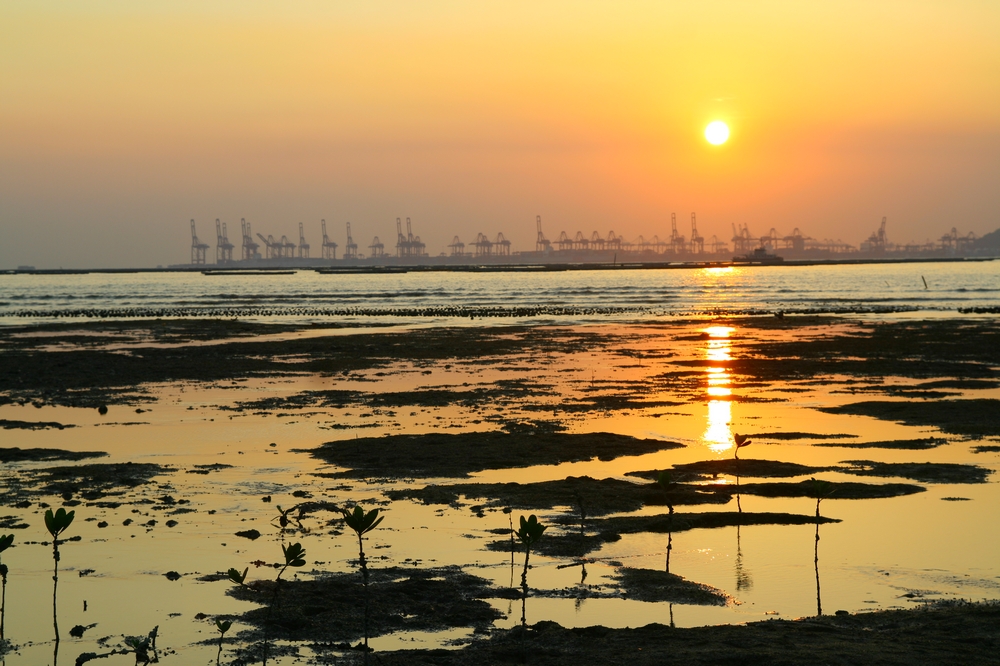 One common problem in sunset photography is the extreme lighting contrast. If we keep the bright sun in proper exposure, the landscape will look dark; conversely, if we retain details of the landscape, the sun will be over-exposed. There are two solutions to this. One is to attach a Graduated Neutral Density filter to the front of the lens to reduce the sky's brightness while keeping the details of the landscape.
Alternatively, we can shoot with the HDR mode which is a built-in feature in some of the EOS digital SLR cameras (such as EOS 6D, EOS 5D Mark III and EOS 7D Mark II). Shoot with your camera mounted on a tripod, and the camera will capture three images simultaneously with different exposure settings and then merge them into a HDR image in which details in both blown-out highlights and shadowed areas are retained. If your camera doesn't have a HDR mode, you can use Auto Exposure Bracketing function instead to achieve a final image with balanced exposure.
Adding Foreground Elements to Enhance the Composition
Apart from taking photos of the sun alone, we should also pay attention to other photo elements or landscape which can help enrich the composition. At Ha Pak Nai, you can include mud flats, boats and oyster beds in the foreground, or even the Shekou Container Terminal if you are using a telephoto lens. In general, we can use the Rule of Thirds to frame a shot, i.e. one-third of the frame for foreground (mud flats), one-third for middleground (sea) and one-third for background (sky). The main subject (such as the setting sun or a person) will usually be placed slightly to the left or right of centre.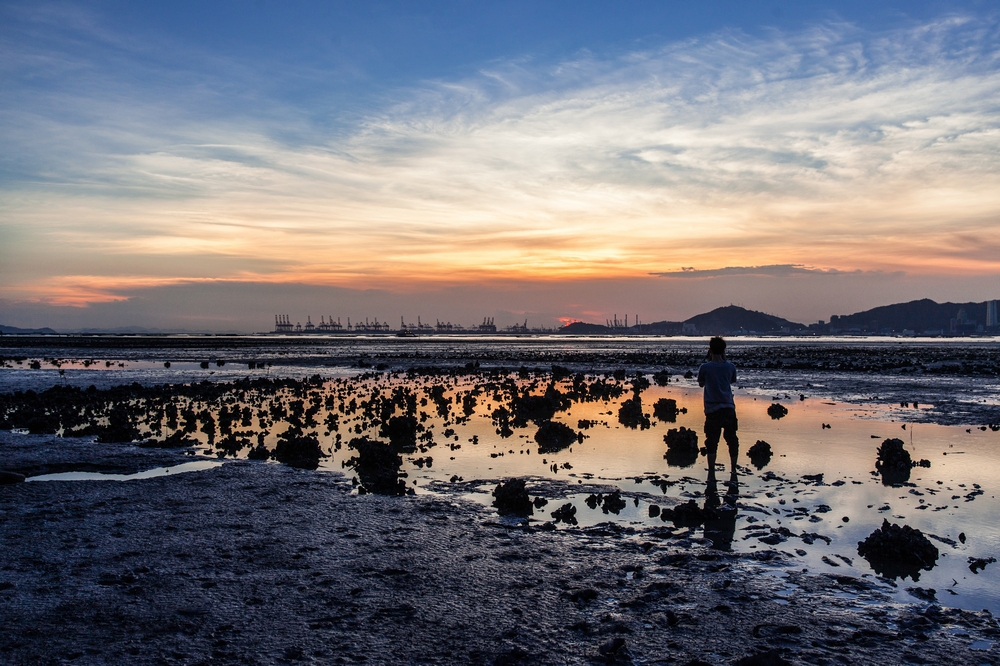 Creating Silhouette with Sunlight
Capturing your subject in silhouette by shooting into the sun gives your photo an artistic mood. In general, we can use Spot Metering on the setting sun to create photo with an accurately exposed sun and putting other foreground elements into silhouette. Lower the Exposure Compensation value to create silhouette in even darker colors.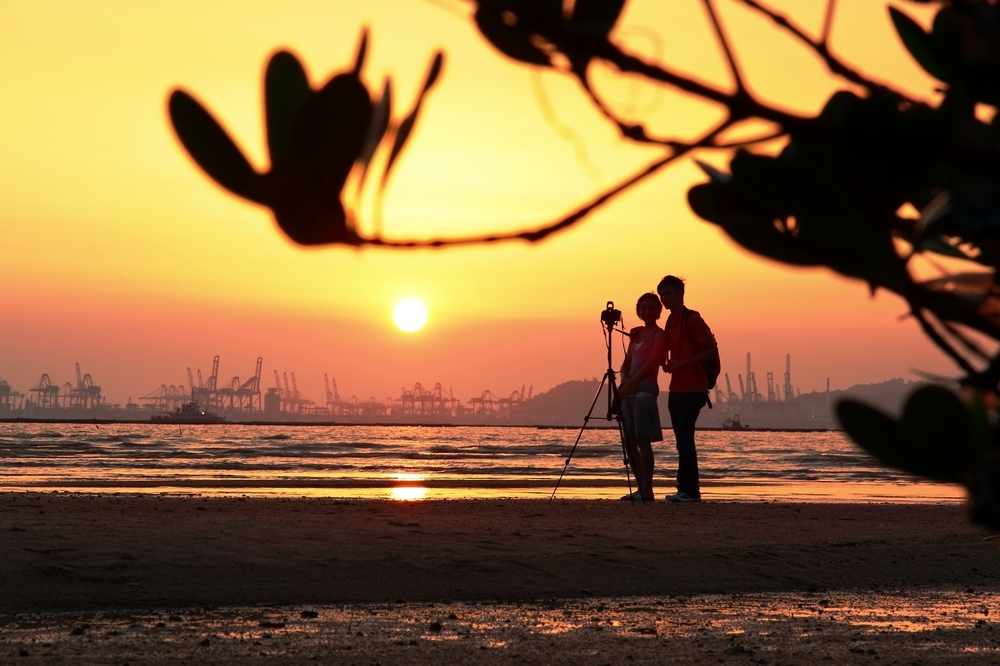 Reflection of the Setting Sun
Apart from being a good location to admire the sunset, Ha Pak Nai has a large area of mud flats which can be used for reflection photography if it's not too windy. It's a stunning scenery to capture when both the sky and the water surface turn red and orange at sunset. Since the brightness level of the reflection is lower than that of the sky, we can use the same techniques as mentioned above – i.e. to use Graduated Neutral Density filter or HDR mode to reduce the sky's brightness and retain the reflection's details. Besides, we can make use of the light bouncing off the water surface as well. For example, when taking close-up shots of small plants growing in the mud flats, the bouncing light can create a backlighting effect and add a mood to the photo.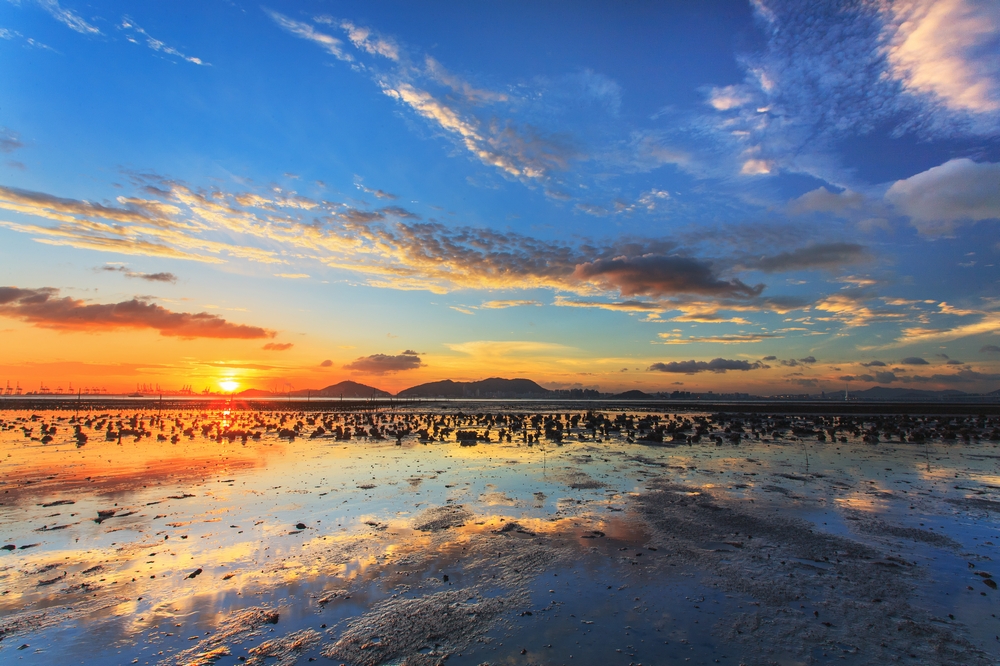 Adjusting the White Balance for Richer Colors
Magic Hour refers to the time of day during and immediately after sunset, where brightness and color change drastically during this short period of time. The sky becomes vivid red right before the sun sets. We can adjust the camera's setting to create an even more dramatic effect of the colors. Choose "Landscape" for the Picture Style and adjust to a higher Color Saturation level. For White Balance, we can either choose "Shade" or adjust manually to a higher K value (e.g. 9000K) for more saturated red color.
Useful Information for Visiting Ha Pak Nai
Tidal information is important for those who want to go Ha Pak Nai for photography. Find out whether the tide recedes during sunset hours before you go, and it's better that the tidal height is 1m or below if you want to take photos with oyster beds or mud flats as foreground. (Please check out the Predicted Tides at Tsim Bei Tsui at the Hong Kong Observatory website:
http://www.hko.gov.hk/tide/cTBTtide.htm
)
Besides, make sure you know the sunset time, which is around 7pm in summer and 5:30pm in winter. Be there earlier if you have time. Wear shoes that are easy to clean as Ha Pak Nai is a mud flat area. Also bring a torch with you if necessary as the environment will become dark after sunset.
Transportation
Take the West Rail Line to Yuen Long Station. From exit B, walk to Tai Fung Street, take the green minibus No. 33 or resident bus NR941 and get off at Ap Tsai Hang. Continue walking along the path next to the river to reach the mud flats.