(Hong Kong, 20 May 2016) Canon EXPO 2016 Shanghai grandly opened for its four day stint in the Shanghai International Convention Center on May 19, 2016. Canon EXPO is the largest comprehensive corporate exhibition from Canon Group and is held every five years. The EXPO showcases the latest cutting-edge and industry-leading technologies together with a full line-up of Canon products, solutions and services. Canon EXPO 2016 Shanghai, which will be the final stop following the expositions in New York, Paris and Tokyo, is themed "Unlimited Delight at Canon EXPO". It gives expression to the happiness and delight brought into our personal and professional lives by images that serve as "connections".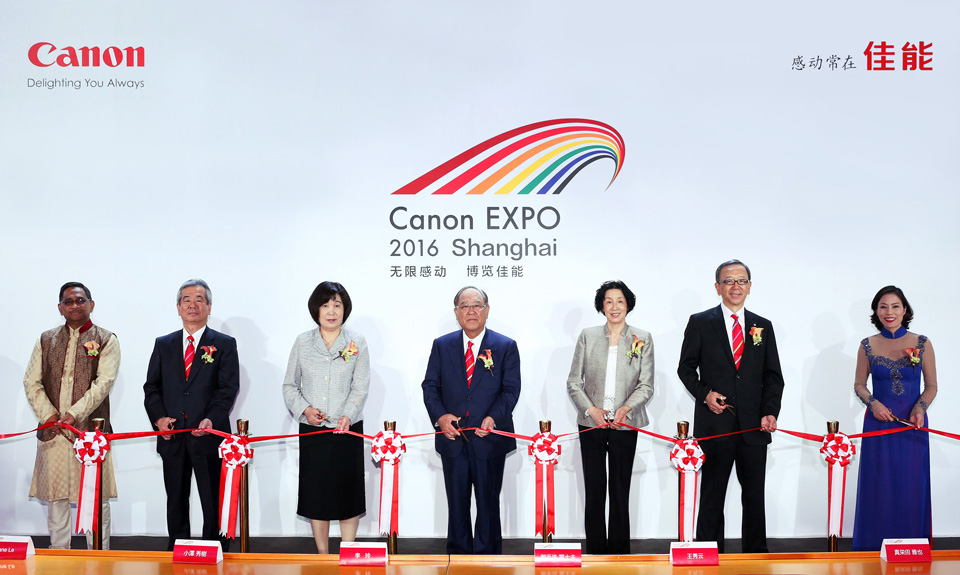 Canon EXPO 2016 Shanghai is grandly opened with theme "Unlimited Delight at Canon EXPO"
One of the significant activities of this EXPO was the Opening Ceremony with strategic speeches by Mr. Fujio Mitarai, Chairman and CEO of Canon Inc., and Mr. Hideki Ozawa, President of Canon Asia Marketing Group in the Pudong Shangri-La Hotel, introducing the future five-year development strategies of both Canon Group and Canon Asia Marketing Group in detail.
Mr. Fujio Mitarai, the former president of Keidanren (Japan Business Federation), stated that the Internet of Things is opening up a new world in which things and things, and things and persons are connected through data exchanges. The Internet of Things is to a large extent built on imaging technology. 87% of all the information that human beings receive from the outside world is processed visually. Canon's core imaging technologies, lens technologies, sensors and processors will enable Canon to stand out from the competition in this new era. As for how to achieve this goal, Mr. Fujio Mitarai raised the plan of boldly reforming the current business management structure: "Canon will build a 'Network of Canon Companies', which is an ecosystem of innovation to leverage local assets while managing globally. Such a global management structure can't do without a combination of regional independence and international collaboration. To do this, Canon will innovate new businesses in each of its key markets."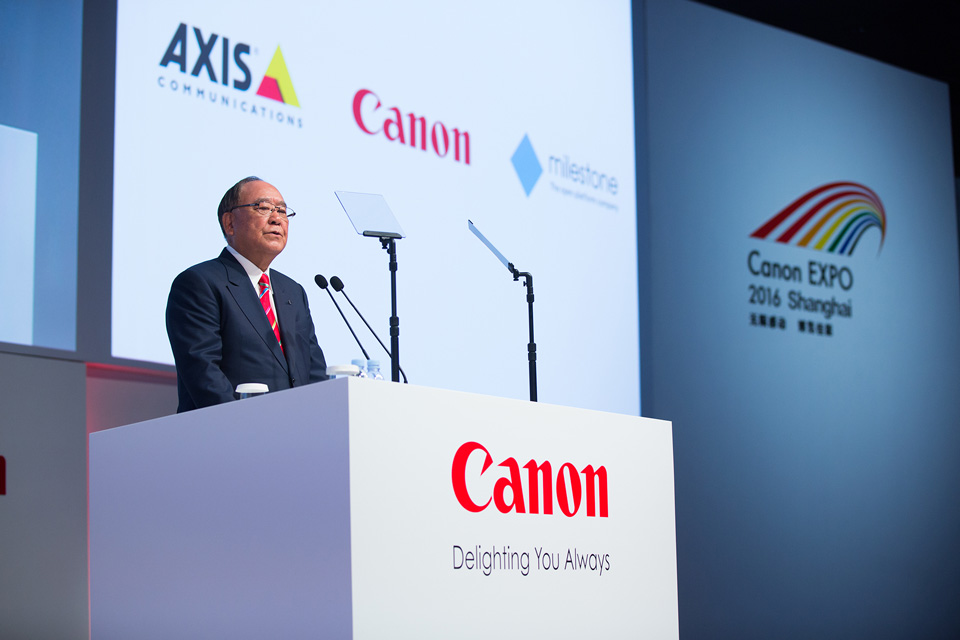 Mr. Fujio Mitarai, Chairman and CEO of Canon Inc., introducing the future five-year development strategies of both Canon Group and Canon Asia Marketing Group in detail.
Having worked in Asia for 25 years, Mr. Hideki Ozawa, President of Canon Asia Marketing Group, interpreted the future development layout of Canon Asia Marketing Group following the strategy proposed by Mr. Fujio Mitarai: The coming five years, Canon Asia Marketing Group will be confronted with steady growth under the influence of the macroeconomic environment. However, the explosive growth of the tourism market, along with the abundance of big international sports events to be held in Asian countries, will without doubt bring about many opportunities for Canon. Therefore, Canon has put forward the key concept of "Closer and Connect". Mr. Hideki Ozawa explained that "Closer" means to be closer to customers, and "Connect" refers to the close-knit connections between people and people, people and things, and things and things. Based on this concept of "Closer & Connect", Canon Asia Marketing Group will create new customers, cultivate and develop emerging regional markets in Asia, expand its business scope for B2B products, and strengthen the brand image of Canon in Asia. With these four strategies, Canon strives to become a USD $10 billion Group by 2020.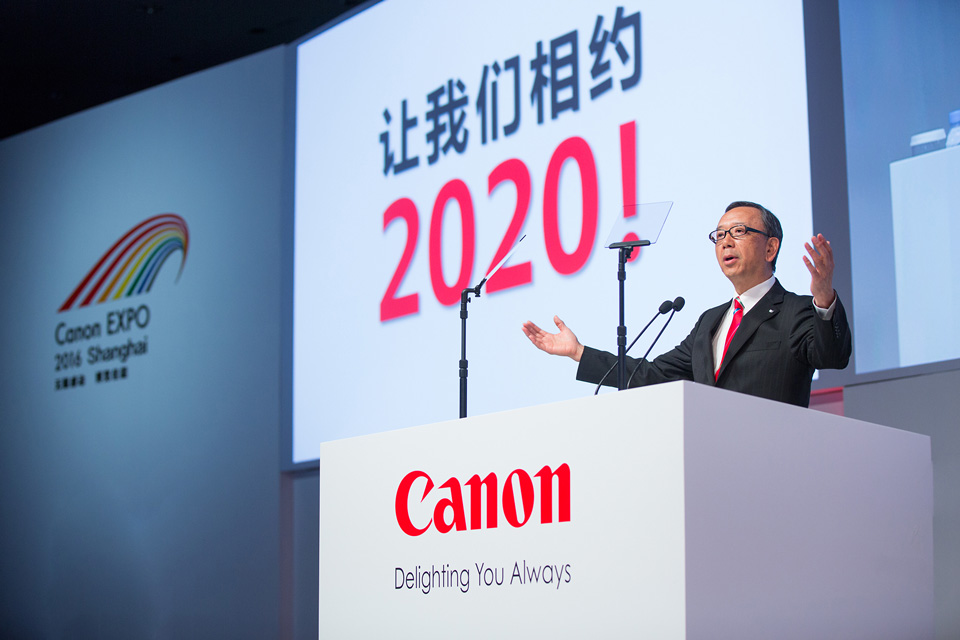 Mr. Hideki Ozawa, President of Canon Asia Marketing Group, interpreted the future development layout of Canon Asia Marketing Group.
The exhibition hall of the Canon Expo 2016 Shanghai covers more than 7,000 m2 and is divided into 13 exhibition zones, showcasing exhibits from Mainland China, Hong Kong, South Korea, America, Japan, etc. The EXPO, converging the wisdom and power of Canon across the world, not only displays currently available Canon products and solutions, but also allows visitors to experience 8K image technology and products, Mixed Reality technology and other future technologies on the site, thus turning the exhibition into a true "Image Carnival". It is expected that the EXPO will attract approximately 40,000 visitors from more than 10 Asian countries. Canon will continue to deepen various forms of communication and exchange with its Asian customers and convey "Delighting You Always" to all 4.3 billion Asian people.
Reference Data
Canon EXPO 2016 Shanghai: A Grand Image Carnival
Canon EXPO 2016 Shanghai will be held in Shanghai International Convention Center from May 19 to 22, 2016. Under the theme of "Unlimited Delight at Canon EXPO", this EXPO utilizes Canon's advanced technologies, products and services to illustrate that an "image" is a "connection" linking time and space, people and people, people and things, as well as things and things within the same space-time frame. The exhibition venues are located on F1, F3 and F7 of the Shanghai International Convention Center. With a total area covering over 7,000 square meters, the exhibition venues are divided into 13 exhibition zones, i.e. "Vision Theatre", "Canon History", "Canon Now", "Moment", "Lens Experience", "Professional Imaging", "Working Space", "Healthcare", "Security Solutions", "Environment", "Cultural Protection", "Beyond High Image Quality", and "Enriching the World through Innovative Imaging".

A Future Beyond Imagination, Canon is Enriching the World through Astoundingly Innovative Imaging
Do you wish to experience the miracles of the future of the "Internet of Things"? Do not miss the "Beyond High Image Quality" and "Enriching the World through Innovative Imaging" exhibition zones!
People have a great time in the "Enriching the World through Innovative Imaging" zone. "Intelligent Imaging for Life" is arranged like "home" where visitors can see the pictures and videos in the living room, on the tea table and on the wall of "their own home". At the EXPO site, visitors can enjoy leisurely life looking at photos, watching videos and chatting.
The "Versatile Collaboration System" is a dazzling system targeting companies and schools. With this system, images can be projected onto desktops or onto real objects. It can also record documents and real objects. What's more, it can even recognize and operate through gestures, just like scenes in Hollywood blockbusters!
In spite of the fact that AR technology is becoming increasingly popular, few people know about its applications. Hopefully, many people are looking forward to the miraculous change it will bring into our life. Canon's Mixed Reality technology has been applied to car showrooms, thus offering welfare to car intenders. The Mixed Reality (MR) system entitles car-buying customers to an experience a drive identical to a real test drive. Furthermore, with this system, customers can also adjust the exterior color and the interior of a car until they have designed their very own "dream car".
"Rich Collaboration System" transforms an ordinary office into a seemingly multinational office located in Lujiazui, Shanghai. Many people have likely already experienced the embarrassing situation that, during teleconferences, even if people can see each other, neither PPT presentation nor the marking on the PPT can be synchronized. This Rich Collaboration System can address all these problems arising in workplaces and help offices in different corners of the world operate in sync.
As its name implies, "Beyond High Image Quality" mainly showcases the imaging technologies that will generate strong visual impact in the future. You will break through your limited cognition of image and printing here. By means of 120 megapixel EOS digital cameras, high-resolution printing solutions, and next-generation professional inkjet printers, we have created a vivid and magical "image airport" here. In "Shanghai Printing World" corner, visitors will be surprised to see how creative their life can get with printing. Exquisite photo albums, colorful posters, and special tailor-made publications … all are Canon's professional digital printing products. "Canon Super Creative Printing" corner exhibits facsimiles of several famous oil paintings created in the European Renaissance Period. Rubens is well-known for his application of colors, while Rembrandt is famous for his understanding of light. The oil paintings of these two masters have been perfectly recreated through Canon's texture capturing and image processing technologies, together with Océ's elevation printing technology.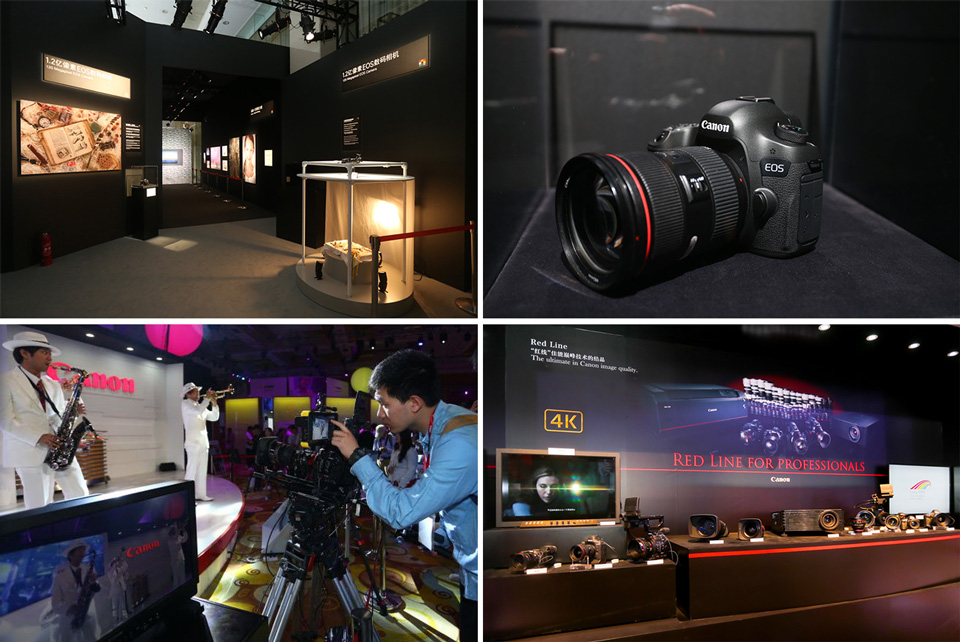 In Canon's 8K display area, both image input and output equipment is 8K! The high-resolution images shot by Canon's 8K cameras can be displayed with different output products. Four sets of 4K new projectors, namely 4K500ST, can project 8K images. 8K Displays can display images with a resolution 16 times higher than ordinary HDTV! These 8K photos can also be printed with high resolution printers. Canon delivers not only two-dimensional high resolution visual pleasure but also "360 Degree Imaging and Sound". Canon's unique all-round omnidirectional image acquisition system enables you to watch high-resolution images in full 360 degrees; at the same time, you can enjoy a natural stereophonic sound that stays consistent with your head's direction.

Observing Canon's current products, Canon has emotions and cares for the society
Canon's current product exhibition zone features the three themes of "emotion", "work" and "society". Here, Canon's full-line input and output products are displayed, covering the areas of personal consumption, office and industry equipment. Moreover, you can witness the achievements made by Canon in the corporate social responsibility field as an Excellent Corporate Citizen.
The theme of "emotion" is unveiled in "Moment" zone. It showcases how images function as "connections" of human emotions, and how, in this way, they fill your life with delight. Canon has always focused on creating humanized products and providing users with image experiences that are interesting and can be shared.
Photography works exhibited in "Moment Theater", "Memorial", and "365 Gallery" corners, through static or dynamic "images", tell vivid and fresh emotional stories. Thanks to the "Shooting Experience Station" Connect Train, visitors can take a Canon EOS Digital Single Lens Reflex Camera in their hands, jump onto the mini train and enjoy a shooting journey throughout Asia. They start off at the Oriental Pearl Tower in Shanghai, and pass the Taipei 101, the Taj Mahal in India, and the Petronas Twin Towers in Malaysia, to finally end up at the Royal Palace of Thailand. The "Lens Experience" Zone has a fantastic view. In front of the French windows facing Huangpu River, a row of Canon EF lenses and telescopes help to overlook the ebbs and flows of Huangpu River. In "Moment Studio", you can capture fleeting moments such as high-altitude falling, gravity-free condition, and flying over skyscrapers! The said photos can be shared through the "Connect Technology" platform. Visitors can experience "Canon image uploading" service applying cloud storage technology, image storage Connect Station CS100 which has changed image storing, appreciating and sharing forms, and digital cameras with Wi-Fi function through wireless connection. With smartphone application Camera Connect installed, users can have easy access to remote shooting and photo wireless browsing and transmission!

The "Work" theme comprises two exhibition zones, namely, "Working Space" and "Professional Imaging". A wonderful stage play is on in "Working Space" exhibition zone. It tells the success story of an old, famous clothing shop which has been passed down from generation to generation. Through this story you will see how "colorful" working environment can bring more business opportunities. Professional photography and camera shooting equipment is arranged in "Professional Imaging" product exhibition zone. Visitors can experience the excitement and passion of a chief sports photographer or an on-site event broadcast photographer.

The theme "Society" consists of "Healthcare", "Security Solutions" and "Environment" exhibition zones. Canon's medical products have been flourishing, including X-ray flat panel detector of the CXDI series, a painless breast CT system, a photo acoustic mammography system that allows three-dimensional imaging of blood vessels, fundus cameras, and OCT. It is a good chance to have a close look at these high-end devices.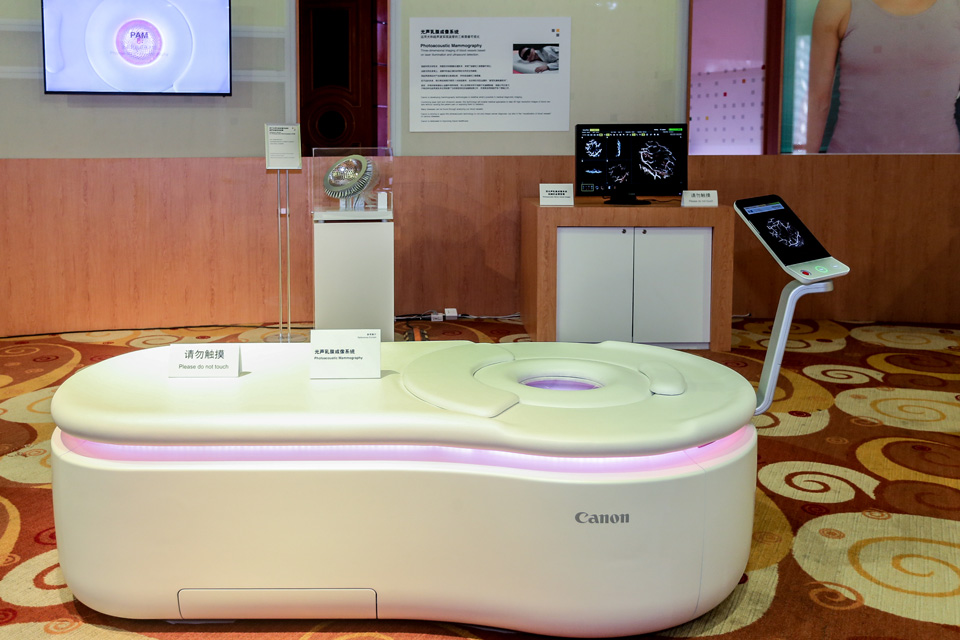 In "Security Solutions" zone, security systems not only serve purposes of safety precautions, but also find more diversified and more interesting applications within the retail sector, the smart home, and the tourism sector. Canon's environmental protection design runs through the entire lifecycle of products, which shows how Canon cares for and protects the earth.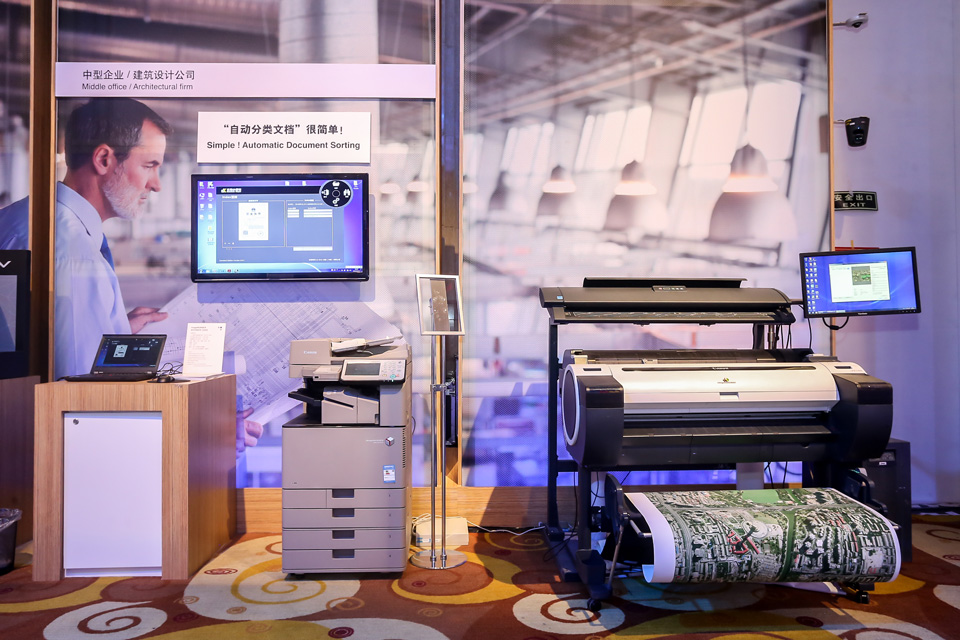 "Environment" zone displays Canon's environmental protection measures at all stages, including product design, development, production, application, recycling and reuse. Meanwhile, the "TSUZURI Cultural Heritage Inheritance Project" as displayed has witnessed the power and value of "images" as a temporal link connecting history and reality. The most striking item at this EXPO is the "Folding Screen of the Flowers and Birds of the Four Seasons", an achievement of the "TSUZURI Cultural Heritage Inheritance Project". It is a delicate facsimile that integrates the traditional crafts of Kyoto in Japan and Canon's imaging technologies. In this project, Canon donates these high-quality facsimiles to temples, galleries and other institutions so that more people can appreciate cultural relics while original works can be well-preserved.
In addition, Canon's history and status quo have been introduced in detail in this exhibition zone.

Other wonderful activities during Canon EXPO 2016
Besides providing extensive consumers, industry users and business institutions with an all-round display of Canon image products, solutions, service and future technologies, at Canon EXPO 2016 Shanghai, Canon will also offer on-site camera cleaning service and field sales to visitors. "Creative Printing" and multiple themed photography lectures and influential trade forums will be concurrently held.
Visitors can register for free on Canon's official website at www.canon.com.cn, so as to personally attend this grand Canon Image Carnival. Canon has prepared three fine gifts for audiences present. The splendor and pleasant surprises definitely cannot be missed!